The principle behind everything on this site is the conviction (which I get from the Bible) that the gospel of Jesus Christ is the message God uses to transform lives. Kids need this good news in large, constant doses.
Whether in Sunday school, Bible clubs, camps, family devotions, informal time together, or whatever our ministry to kids might be, the job God gives you and me is to show them Jesus—both his stunning person and his work to save us from sin. We must approach the Bible as more than moral lessons, wise sayings, or nice stories. We must be gospel teachers.
One beauty of this is that as we teach the gospel we also learn to rest in it ourselves. We become free of guilty feelings about our parenting and teaching; Jesus took our guilt. We have less performance anxiety; Jesus, not our teaching, makes us accepted and worthy. We let go of the fear that we might get it all wrong; our trust is in Jesus, and he gets it right.
I'm still learning all of this—both the teaching emphasis and the resting—but I've been practicing it for some time now and am getting better at it. My goal is to encourage you in gospel teaching and, I hope, to learn much from you as well.
Myself
I grew up among the Navajo people in New Mexico, where my dad served as a pastor. I studied journalism in Missouri and then worked in television news for 15 years, mostly in North Carolina. I've also worked in college administration.
Now I live in southwestern Colorado with my wife and two kids. We're nestled between the Rocky Mountains and the beautiful canyon country you see in the picture. I spend most of my time here writing, while also teaching the gospel to kids and teens at my church and at the area's many Christian camps.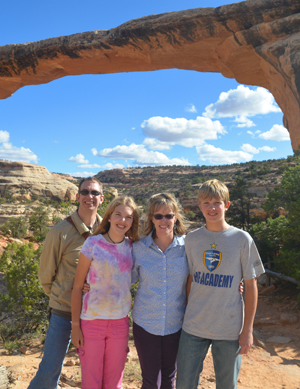 Beliefs
I'll happily tell kids about Jesus just about anywhere I'm asked, and I'll work with most Bible-believing ministries that affirm the good news of salvation in Christ alone and his atonement for sin. My convictions are most closely in line with evangelical Presbyterianism, but I have also worshiped and ministered with Baptists. This statement of faith by B. B. Warfield makes a good summary of those beliefs I consider to be most important.
As for influences, I love several Puritan writers of the 17th Century and thereabouts. This isn't nearly as boring and uptight as most people imagine. The era produced extraordinarily godly men and women who were passionate about Christian life—not a moralistic sort of life but a faith-filled one in which hearty obedience to God flowed from looking deeply and constantly at Jesus.
Writing
My book, Show Them Jesus: Teaching the Gospel to Kids, was published in April, 2014. In it, I share stories and gospel-centered teaching ideas from my own experience as a Bible teacher. With co-authors, I've also written a series of discipleship lessons for tweens and young teens and a small-group study for parents, The Gospel-Centered Parent. Still more of my writing is available online, at the New Living Translation's Bible study resources page.

Copyright secured by Digiprove © 2014-2015 Jack Klumpenhower