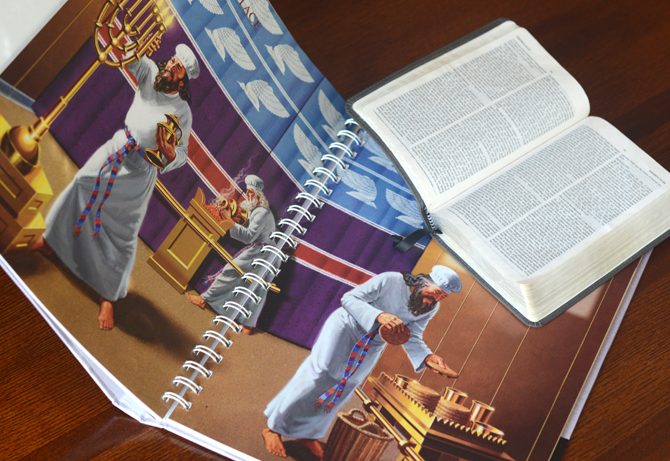 Two Paths to Jesus from the Old Testament
How do you teach something exciting about Jesus from a passage that's just "boring" instructions about church furniture? Here are two ways to go.
I've just finished teaching through Exodus, and I'm struck again by two different methods for seeing Jesus in the Old Testament. There are more than two methods, of course, but these two will carry a Bible teacher far.
Method 1: Sameness
The first method is to notice what God is like and how he cares for his people in a particular Old Testament passage, then see how he does the same in Jesus—but even better. Exodus ends with the building of the Tabernacle, the first place of worship for God's people, and instructions about how to worship there. This year, I taught a lesson on the furnishings in the Tabernacle (using the very helpful Rose Guide to the Tabernacle, which is in the photo above, to show the kids what it all may have looked like). These furnishings foreshadow Jesus.
The altar shows how God is holy and arranged for constant sacrifices for sin. Jesus is the final sacrifice, provided by God himself, who actually pays for all our sin.
The wash basin shows how God wants his people to be clean and holy. Jesus washes away our sin and gives us his Spirit to lead us in holy living.
The tree-shaped lampstand shows how God is light and life. The Bible says of Jesus, "In him was life, and the life was the light of men" (John 1:4).
The table, always refreshed with bread, is a picture of God's unending care. Jesus said, "I am the living bread that came down from heaven. If anyone eats of this bread, he will live forever" (John 6:51).
The incense altar shows that God listens to his people through prayer. We now pray in Jesus, sure that we are always heard.
The ark of the covenant shows God's desire to live among his people—right in the middle of them! Jesus has done this for us by coming in person, as one of us, and by sending the Spirit to live in our hearts.
My furnishings lesson is an old one kids usually like. I pulled it out of the file, knowing I had a winner for my final lesson in Exodus, and happy that the furnishings show us Jesus.
Method 2: Difference
But sameness is just one method for seeing Jesus. A few days after I taught about the furnishings, I was reading further and was struck by how Jesus also changes everything. This is the second method: to notice how, in the Old Testament, some problems remain unresolved and even the happy endings are not fully satisfying. Jesus doesn't just bring more of the same, he also makes everything different.
One feature of God's instructions for the Tabernacle is how inaccessible he remains. His plan is for his presence to rest atop the ark, in the midst of his people—but yet they must keep their distance. Levites guard the Tabernacle area, where only priests may minister. And only Aaron the high priest may actually enter behind the curtain where the ark sets, and then only under careful conditions once a year. God told Moses, "Tell Aaron your brother not to come whenever he chooses into the Holy Place inside the veil, before the mercy seat that is on the ark, so that he may not die" (Leviticus 16:2).
That's the rule: Don't come too close too often. If you do, you will die.
Jesus stunningly changes all this. Having paid for sin fully, once for all, he has opened the way to God. "We have confidence to enter the holy places by the blood of Jesus, by the new and living way that he opened for us through the curtain" (Hebrews 10:19–20). We are not just allowed in, but are urged to come. We need to come near to God every day. "Let us then with confidence draw near to the throne of grace, that we may receive mercy and find grace to help in time of need" (Hebrews 4:16).
Jesus turns the rule upside down. No longer is it "stay away or die;" now it's "come near daily to live!"
Teaching about Jesus
So which lesson is better—the one I taught about furnishings or the one about coming near that I thought of afterwards? I think they're both good. I went with the furnishings because at the time I prepped my lesson I was excited about that. But I was aware of the coming-near theme in Leviticus and Hebrews (Matthew Henry has great comments on it) and I might just as easily have chosen that if it had occurred to me to teach that way.
My point is that most Old Testament passages have multiple paths to Jesus. If you start down one and don't find anything that excites you, try the other. And mix it up. I've taught about the furnishings a few times now, and I'm thinking that next time I teach through Exodus I may switch and teach about coming near—or teach both. I need to keep things fresh for myself, so that I'm always teaching about Jesus out of what's thrilled me first.
###
Thoughts? Please share or comment below. I love feedback and discussion—it's how we learn from each other! (Pick any name you like. Your email address will not be displayed.)