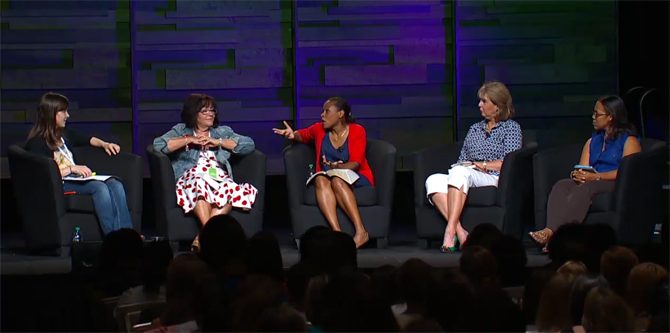 Teaching Our Children about Jesus
Video and audio from the Gospel Coalition 2014 National Women's Conference is available now. One of the talks I've been waiting to listen to is the panel discussion with Elyse Fitzpatrick, Trillia Newbell, Gloria Furman, Kristie Anyabwile, and Mary Mohler on the topic of teaching our kids about Jesus.
To be honest, one reason it caught my attention was that I'd been told Elyse Fitzpatrick gave Show Them Jesus a nice mention from the podium. It's true. It comes near the end of the discussion and, yes, she pronounces my name correctly. Thank you, Elyse!
But before that, there are a number of wise observations that make the talk worth a listen, especially for parents or teachers who may feel regret over ways they've failed to teach Jesus well or to model his love in front of their kids. There are sweet reminders here that although God uses teachers, salvation comes from him. It is not our responsibility to get kids saved. Whew!

Copyright secured by Digiprove © 2014 Jack Klumpenhower