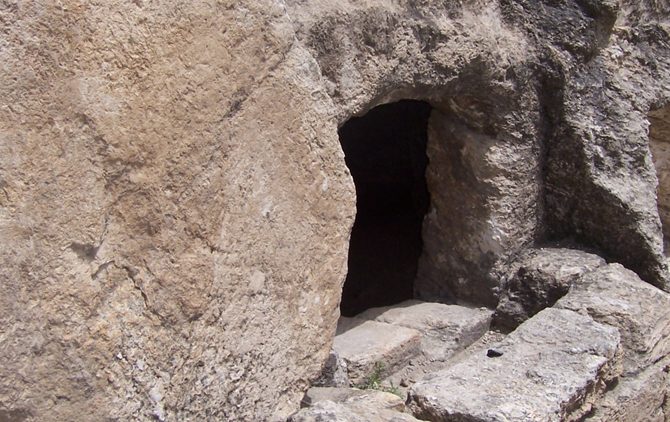 Talking Points for a Gospel-Rich Easter
There's much to say about the resurrection, but maybe you aren't sure where to start. Here's a time-tested framework for talking about Jesus and new life.
If you're like me, you may have an opportunity in the coming week to teach about the resurrection. On Easter Sunday I'll have both my usual kids' Sunday school class and a brief teaching time for a group of combined classes, plus whatever I decide to do with my own family. That's a lot of talking about life, resurrection, and the empty tomb.
As wonderful as the resurrection is, I find my teaching can easily stay superficial unless I organize my thoughts. One way I do that is to not only tell the resurrection story but also ask myself (and sometimes the kids too) this question: Why does it matter that Jesus rose from the dead?
Solid answers could make a very long list.
I won't attempt to cover all the possible replies. I find that I get a nice framework full of gospel-rich teaching points if I just remember one answer pertaining to me, the teacher, plus three ways all believers are raised along with Jesus.
First, for us as teachers the resurrection matters because it gives our teaching power. As gospel teachers, we represent the Risen King. We tell his story and we issue his call to believe it. Ours is no feeble message about a dead Savior, but a living message backed by a Savior who uses it to awaken hearts. The resurrection gives our teaching both confidence and urgency. It allows us to speak about Jesus with kindness and conviction. This is how we speak—a resurrection talking point we preach to our own hearts before we teach others.
Second, for all believers the resurrection matters because those who are joined to Jesus are raised to life along with him. The Bible tells of three ways we have life because of Jesus's life. I try to keep these talking points in mind as I talk with kids about the resurrection. They're what to speak.
1. We are raised with Jesus legally. As sinners, each of us begins under a death sentence. Bound to face God the Judge, we are doomed—as good as dead. We can be saved only because Jesus, the sinless one, died in our place. He takes our sin and gives us credit for his perfect righteousness. By raising Jesus from the dead, God showed that he accepts Jesus's sacrifice for our sin, and so he accepts us. Jesus "was raised for our justification" (Romans 4:25).
Being legally raised with Jesus changes how we live:
It fills us with gratitude to Jesus so that we gladly serve him.
It gives us the eternal acceptance from God that we long for, so that we no longer chase the lesser approvals offered by the world.
It means we're no longer scared of God's commands. Instead of trying to turn them into something manageable that we can do to feel good about ourselves, we dare to look into God's perfect law (James 1:25). We know we may be convicted, but never condemned.
2. We are raised with Jesus spiritually. We who believe in Jesus have power from the Holy Spirit to resist sin and live for God, advancing his kingdom. We've passed from death to life. Once we could do nothing truly good. Now with God's constant help, we can do all things. "He has caused us to be born again to a living hope through the resurrection of Jesus Christ from the dead" (1 Peter 1:3).
Being spiritually raised with Jesus also changes how we live:
It gives us confidence both in ministry and in our fight against sin in our lives. Rather than think, "I'll never be able to do that," we wade into the battle alongside our Captain.
It keeps us practicing faith. Since our strength and, indeed, our very lives are of the Spirit, we attempt nothing without him. We pray continually and feed on his Word.
3. We will be raised with Jesus physically. Our souls will live forever with Christ, and after he returns our bodies too will be raised to be with him always. Then we will have new and glorious bodies, like his new body. "He who raised the Lord Jesus will raise us also with Jesus and bring us with you into his presence" (2 Corinthians 4:14).
The sure hope of being physically raised with Jesus to eternal life has huge implications too:
We live for the lasting things of God rather than the temporary things of this world. "If then you have been raised with Christ, seek the things that are above, where Christ is" (Colossians 3:1).
We know that all we do for God will matter eternally—"in the Lord your labor is not in vain" (1 Corinthians 15:58). This keeps us motivated even when serving God is difficult.
We keep our bodies pure. They are lasting and they belong to Jesus (1 Corinthians 6:15).
We are filled with hope and joy. Even amid suffering, we know a lasting victory is ahead.
As I said, there's a ton more. There are all sorts of themes in the gospel accounts of the resurrection and the Bible's teaching about life and death. You could easily add your own observations or even create an entirely different framework for organizing them.
The framework I just gave you, though, is a good one for getting started. It isn't something I just whipped up on the spot. It's based on several longstanding theological summaries that address the resurrection, each of which is based on the Bible's own teaching.
I've been using this framework in my teaching leading up to Easter this year, and I think it's helped me to be more thorough than usual in proclaiming the full good news of the resurrection. Without it I tend either to stay superficial or get rambling and incoherent. I hope it might be helpful to you as well. This week, may you and those you teach be filled with joy in our Savior.
###
Thoughts? Please share or comment below. I love feedback and discussion—it's how we learn from each other! (Pick any name you like, and no one but me will see your email address.)

Copyright secured by Digiprove © 2015 Jack Klumpenhower