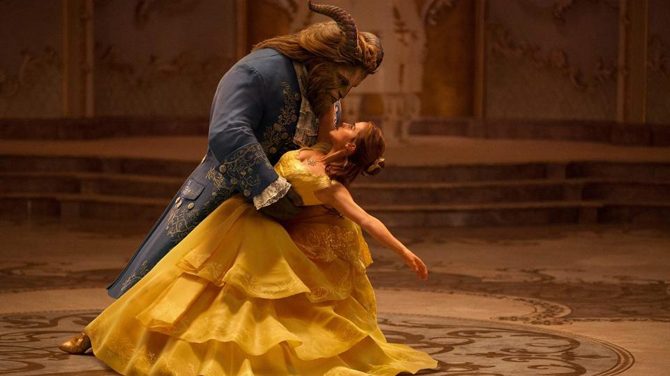 Talking about Jesus, Beauty, and the Beast
After we watch Beauty and the Beast, how might we talk to our kids about Jesus? And what should we do about that "gay moment" in the movie?
Last week, just before Disney's live action Beauty and Beast hit movie theaters, I happened to be at a public high school and was approached by a ninth grader holding a video camera. He asked if he could interview me for a class project. He was collecting short-sentence answers to a single question.
He pointed the camera at me and asked his question. "What makes people happy?"
My brain spun, trying to come up with the best answer for that situation. I could say something about Jesus, but I guessed the young man would take it as if I found Jesus to be fun. The classmates and teachers he'd interviewed before me had probably mentioned skateboards and travel and helping others, or maybe love, and my "Jesus" answer would just be added to a list of options for happiness. That wouldn't be right.
I finally answered, "I think… we're happy when we're able to be who we were made to be."
"That's deep," the kid said. He seemed to appreciate my answer, for a moment, before moving on to ask the next person.
I was left wondering if I'd responded well. The answer I gave really requires a follow-up question: Who are we made to be, and who (or what) has made us? If that ninth grader believes he's been fashioned by society or by nature, or if he believes he must somehow create himself, he will draw a very different conclusion about what brings happiness than if he believes he's been made by God.
Back to that thought in a moment. First, the movie.
Disney and the Christian parent
I decided months ago that I wanted to see Beauty and the Beast and then share ideas for talking about the gospel with kids who've watched the movie. The story reminds me of our salvation in Christ, and I'd heard the new movie would have even more depth than the old, animated one.
Then the director announced Beauty and the Beast would include Disney's first "gay moment," and many Christians took notice. Parents are rethinking whether or not to take their kids to see it, and I can't really write about the movie without addressing the matter.
The gay moment is a brief shot near the end of the movie where the character LeFou ends up dancing with another man and realizes he likes it. Up to this point, LeFou has been a conflicted man, unsure why he's devoted to the villain Gaston. The gay moment resolves that for him and gives LeFou's story a happy ending. There's also an earlier moment where a minor character is happily surprised to be put in a cross-dressing situation. This makes two scenes suggesting gender identity or sexual attraction ought to be fluid, not limited by one's biological sex.
God always challenges how we think. In this case, the Bible's message that God created us with gender and sexual limits is at odds with the movie's ideas.
As always with movies, Christian parents are wise to pause before blindly taking their kids to see Beauty and the Beast. There's also a large amount of sexual harassment and intimidation by Gaston toward the heroine Belle, though the movie has the good sense to condemn it as evil. And this live-action film is considerably more violent than the animated version was. Parents should consider all of this.
But I wonder why some act surprised at the gay moment, as if Disney has suddenly betrayed us. The studio's idea of what is moral behavior may have shifted, but let me assure you: Disney has never taught the gospel.
If we think we've ever been able to trust Disney to teach our kids how to honor Jesus, we've been sorely mistaken. The Lion King's salute to the circle of life, or Pocahontas' song to the spirits of the rocks and trees and the colors of the wind, are clearly not Christian. And even where false religions are not celebrated, and heroes are good, generic morality and self-made pluckiness are hardly the same as faith in Jesus.
When have you seen a Disney princess go to church, or pray, or turn to God in any way for anything? When have you seen her draw hope or courage or joy from the cross of Christ, or his resurrection, or his promise to return? Me neither.
If we take our kids to these movies, we need to think in gospel terms and be ready to talk about what we've watched. The movies won't have Jesus in them; we need to supply that. Some movies, like Frozen, will be surprisingly rich in gospel-drawn themes to get us started. Others, even if made for kids and free of scandalous content, will have an anti-gospel message we'll need to address if we decide to see the movie.
Regardless, it's our job to show kids Jesus. So how might we do that if we choose to watch Beauty and the Beast?
A tale as old as time
When the theme song speaks of a "tale as old as time," it is correct. Beauty and the Beast is a story about a curse that must be broken. Whether or not the filmmakers intended it, it draws on the grand story of the world—the Bible's story about our sinful, cursed condition and our rescue in Jesus.
The Beast and the characters in his castle are under a spell. The Beast himself is hideous and unkind, his princely glory long gone. The others are ridiculous shadows of what they once were. They live as teacups and napkins and furnishings, resembling their true selves in some ways but unable to be what humans were made to be. And they will be stuck this way forever, eternally dead to true humanness, if love doesn't break the spell soon.
It rings all too true. Due to sin, we too are dying and are not the God-honoring creatures we were made to be. We aren't full, glorious, pride-of-the-universe humans—as fits our true purpose.
Then Belle enters the castle, light streaming in as she opens the door. Her name means "beautiful." The candlestick Lumiére asks, "What if she is the one, the one who will break the spell?" It reminds me of when the whole world was waiting for the Savior to be revealed. It echoes the beautiful One who came "to give light to those who sit in darkness and in the shadow of death" (Luke 1:79).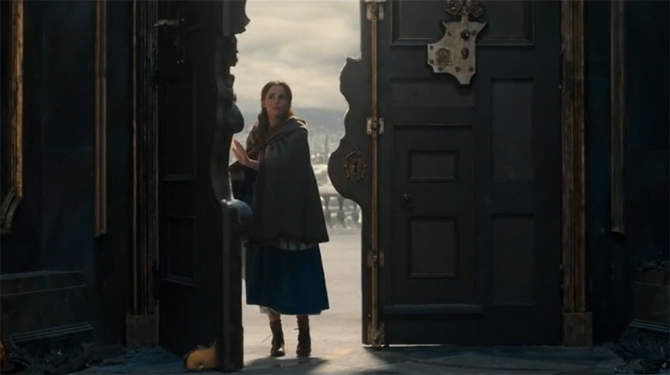 The rest of the movie largely follows Belle and the Beast as they learn to appreciate and care for each other. This is where the new movie has more depth than the old one. Belle's strength lies first of all in her compassion, which is a nice touch. The Beast learns to hope, develops a healthy sorrow for his misbehaviors, and comes to love Belle. He learns—dare I say it—a form of repentance.
The movie ends when the Beast and other castle residents are saved and become human again, and then celebrate their restored humanity with a grand dance. It's a delightful moment. I enjoy heaven-like endings.
Missing the gospel
But the ending is also why LeFou's story arc can't simply be ignored. I went into Beauty and the Beast expecting the gay moment would matter little in how the filmmakers told the movie's larger story. I thought it would be a side point about the world's view of morality rather than a central point about how we're saved. But having seen it, I don't believe it's a side point. It's a brief moment, but coming in that final dance scene it's an important element in the movie's message about becoming human again—and an anti-gospel one.
Don't get alarmed. It's common for movies to present non-Jesus solutions to our cursed condition. It doesn't make the movie unwatchable or erase the many elements that are praiseworthy. We just need to be sure we notice the faulty solution. And let's not assume our kids are too young to pick up on it.
I suspect the filmmakers have the same ideas the ninth grader I met probably has about who made us and why. They think we are self- or society-made. They think we can be happy if we sort out the pressures of our culture and the quirks of our nature, and discover we are gay or straight, or masculine or feminine, or skateboard enthusiasts, or soup kitchen volunteers, or activists, or whatever. Maybe there's an agenda behind picking the gay example. But it's also likely, given our culture's current fixation on gender and sex, that they just thought it was the best way to illustrate the "become who you were meant to be" theme.
So LeFou serves as an example of someone outside the castle who, like those inside, also becomes the person he was meant to be. However, he saves himself by discovering within himself a feeling about what he should be, which is far different from finding the beautiful One who designed him. Our inner feelings are not true enough or pure enough to be our savior. Any answer other than God transforming us to fit the pattern of Jesus our Creator (Romans 8:29, 2 Corinthians 3:18), with all its potential and limits, has a woefully small view of the promise of human happiness. We are made to be like Jesus, to bring him glory in all we do and enjoy him forever.
Many people feel the unhappiness of our condition. They sense they are not fully the humans they were made to be. This is correct; none of us are, yet. But we must not think we might break the spell by any solution less than the love of the beautiful One.
How to talk to kids
Talk about how we, like the Beast and those in his castle, are under a curse due to sin. We are not the sort of humans we were created to be. We are without hope unless a rescuer comes.

Talk about Jesus. He is the One who breaks the spell. He is our Creator, and he has come to save us from death and give us the kind of life humans were made to have.

If you think your kids can understand it, talk about LeFou. Point out the faulty solution. Help them see how we were made by Jesus to be like him, fitting his pattern rather than any other pattern for happiness. Nothing short of Jesus will satisfy, no matter what a movie may tell you.

You might like to study Isaiah 52 and 53. It's a passage about happiness and the beautiful One who brings it. "How beautiful upon the mountains are the feet of him who brings good news, who publishes peace, who brings good news of happiness, who publishes salvation, who says to Zion, 'Your God reigns'" (Isaiah 52:7).
###
Thoughts? Please share or comment below. I love feedback and discussion—it's how we learn from each other! (Pick any name you like. Your email address will not be displayed.)

Copyright secured by Digiprove © 2017-2020 Jack Klumpenhower