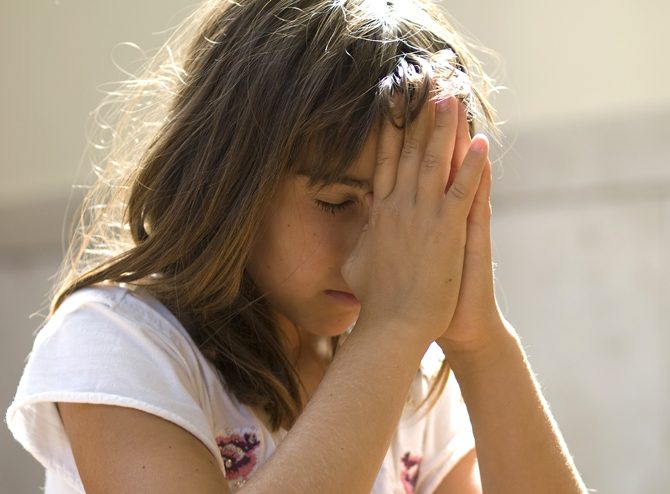 Pray with Those Kids: A Reminder
If this doesn't make you want to pray with a kid, I don't know what will. It happened to me at church on Sunday.
A 10-year-old girl who's a former student of mine returned for a visit. She'd been in my Sunday school class last year, but then her family moved out of town to the big city. They came back to visit for spring break. I saw her in the lobby and she nearly tackled me with a big hug around the legs before I could even bend down and say hello.
Odd. She was never particularly affectionate before.
Later she showed up in class, wearing a happy-to-be-here grin the whole time. At the end of class when her dad came to pick her up, I told her good-bye and she surprised me with another monster hug around the neck. "Thank you for class," she said. "And thank you for praying for me." Then she was gone.
Praying for her? But we hadn't prayed for her—not that day. We hadn't prayed for her since back when she was getting ready to move, nearly a year ago.
Back then, she was nervous and sad about the coming move, as kids usually are. So as a class we prayed for her a few times in our usual prayer circle. The last day she was there, I also prayed with her individually—more because I thought I ought to than because I love to pray. I asked that God would stay with her and give her friends, a good church and school, and confidence in him. At the time she didn't seem very interested in being prayed for, but I did it anyway, all the while thinking she was bored by it.
I guess I was wrong about that.
Now I wonder if anyone besides me had prayed with that girl about her move. Hopefully her parents. Most likely no one else.
Today I can still feel those big hugs from Sunday. That's good, because they remind me to pray with the kids I teach even when I feel cold or those kids seem uninterested. Somewhere in the big city there's a little girl who probably doesn't remember much from the lessons I once taught her, but she'll never forget that she was prayed for—that when she was scared and sad we took her fears to our Father.
###
Thoughts? Please share or comment below. I love feedback and discussion—it's how we learn from each other!

Copyright secured by Digiprove © 2014 Jack Klumpenhower