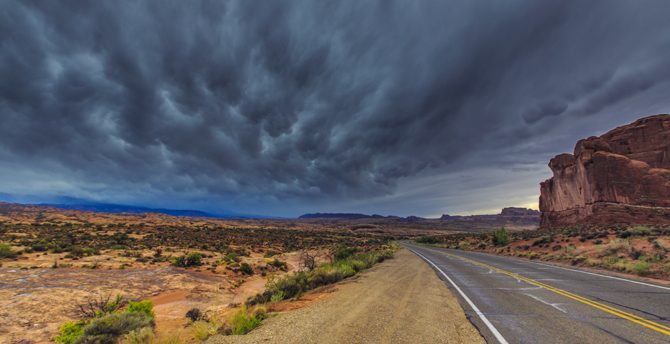 May My Teaching Drop as the Rain
There's a short Bible passage that I call the Teacher's Prayer, and the weather this week caused me to think of it. Yes, the weather.
The rains have come.
In the corner of the world where I live, this is a big deal. Here on the plateau of the American Southwest, we usually spend the first half of the summer dry and dusty. Ranchers try to hang on. Forest rangers keep an eye out for fire. And this year even subdivision dwellers like myself suffered, as the dry spell was bad enough that we ran out of water to keep our lawns alive.
But last week the seasonal rains began. We've now had several days in a row of gentle, refreshing, life-giving water from heaven. We're thankful and satisfied. When the ground has been crusty for months, there's nothing quite like stepping onto a spongy lawn that's starting to turn green again.
The rains remind me of the end of Deuteronomy, where Moses speaks a final song to the people of Israel. The book to that point has been gospel-rich. Moses has reminded the people of God's remarkable goodness to them in spite of their fickleness. He's urged them to love God with all their hearts and to believe that serving Him always brings life. He's warned and pleaded and enticed them toward God. The song is a summary of those lessons; a final, hearty anthem from one of history's greatest teachers.
It begins with a prayer that God would bless his teaching:
May my teaching drop as the rain,
my speech distill as the dew,
like gentle rain upon the tender grass,
and like showers upon the herb.
For I will proclaim the name of the Lord;
ascribe greatness to our God.
­—Deuteronomy 32:2–3
That's the Teacher's Prayer. Maybe it's because I live in a dry climate, but I really like that prayer.
The gospel is rain. It comes to us from heaven and it sweetly, lightly revives crusty souls wherever it lands. It doesn't necessarily make a splash, but to those who drink it in it always makes a difference. It's refreshment for the thirsty, dew for the dry, life for the dying.
The goodness of God that Moses taught about was a preview of the blessings we have in Jesus. We're forgiven, counted righteous, adopted by God, given his Spirit, brought close in prayer, promised an inheritance, assured of eternal life… and I could go on but that would be like trying to, well, count raindrops in a thunderstorm. There's too much. We're drenched with kindness.
This week I have the task of teaching a bunch of fourth and fifth graders at a nearby Bible camp. No doubt, we will all be grateful for the rains. Camp will be less dusty. But I need to pray also for gospel rain—that I and those kids would see Jesus and drink deeply; that we would be absolutely soaked.
###
Thoughts? Please share or comment below. I love feedback and discussion—it's how we learn from each other! (Pick any name you like, and no one but me will see your email address—and I won't use it, I promise)

Copyright secured by Digiprove © 2014 Jack Klumpenhower