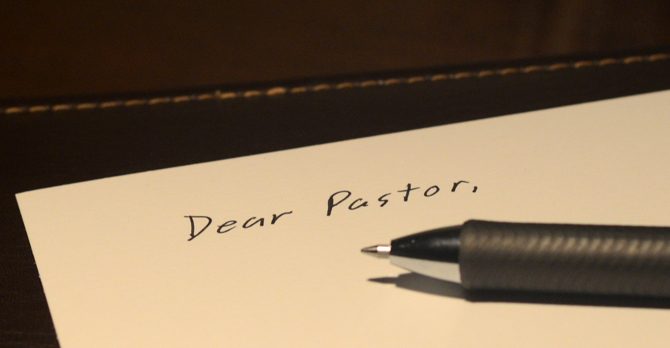 A Letter from an Unsatisfied Churchgoer
It really was a perfectly good church service I attended a few days ago except for—well, except for the one thing that makes me write this letter.
Dear Pastor,
First of all, excuse me for posting this letter for all to see rather than just writing to you directly. Also, please forgive me for making what will probably sound like a complaint. I really don't want to complain to you. In fact, I doubt you'll ever read this—which is just as well. I'm writing this letter because I hope it'll help someone else.
I was in your church last Sunday. I was visiting from out of town and I wanted a place to worship, so I did some research and settled on your church. It's affiliated with a group I respect, and your website said that you love the gospel.
Again, I don't wish to complain. I have many reasons to be grateful to you. Your church provided me with a warm welcome and a place to join fellow believers in worshiping our Savior. This was a blessing only a thankless, nitpicky fellow could overlook—and I surely don't want to be one of those. Thank you for opening your house of worship to me. I mean that.
You preached to me, too, and you had good things to say. Your sermon was about the importance of reading the Bible. You urged me and my fellow worshipers to make a habit of spending time in God's Word. This is a topic close to my heart. Few disciplines are as crucial to the Christian life as soaking in Scripture, so I heartily agreed with your exhortations and felt challenged to do better. Not that it's my place to judge, but I thought you brought up many excellent points.
Still, I've decided to write to you because I left feeling unsatisfied. I didn't understand quite why until I finished mulling over your sermon several hours later. That's when I realized that despite your good material, it was missing something great.
I'm sad to say, pastor, that you didn't preach the gospel. You said nothing about Jesus. I'm pretty sure you never mentioned him at all.
And I need to hear about Jesus every week. He's why I do godly things like read the Bible.
I need to be reminded that God's Word has come to me in the context of the Word, who gave his life for me and rose again. I need to hear of that love and of my holy, glad duty which flows from it. I also need to be reminded that he who did not spare his only Son will surely give me all good things. I need to know that in Christ the effort I make to delve into Scripture will certainly bring rewards of unimaginable sweetness, and yet my Father just as surely loves me even if I fail at your Bible reading plan. In short, I need the gratitude, comfort, confidence, and hope that only the gospel gives.
You could have ministered to me by preaching these things, but you didn't. I know the service is not supposed to be all about me and what I get out of it, but I do think it's supposed to be about Jesus. As it was, any non-Christian religious person might have listened to your sermon and agreed with it. I think you could have substituted the word "Koran" for "Bible" and made most Muslims happy. That shouldn't be. A gospel sermon ought to be shockingly different from anything else in the world.
But I don't wish to complain. I really don't. This is because I too have the duty, on most Sundays, to tell the gospel.
I teach a Sunday school class of third and fourth graders. They are just as desperate as I am for that gratitude, comfort, confidence, and hope I spoke of, and I too sometimes fail to serve them the gospel. I get caught up in giving them good advice. It's good enough, but I fail to say anything truly great—the sort of shattering truth found only in the cross of Jesus and in his jaw-dropping, empty tomb.
On Sunday at your church, I felt from you what my students have too often felt from me. It has renewed my determination to teach the gospel every week. That's a nudge we all need regularly.
So you see, this is the kind of letter I ought to receive from my students now and then, though none of them has ever had the courage to write one. I wrote this letter to help me, and that's why I'm posting it here.
Yours truly,
Jack
###
Thoughts? Please share or comment below. I love feedback and discussion—it's how we learn from each other! (Pick any name you like, and no one but me will see your email address—and I won't use it, I promise)