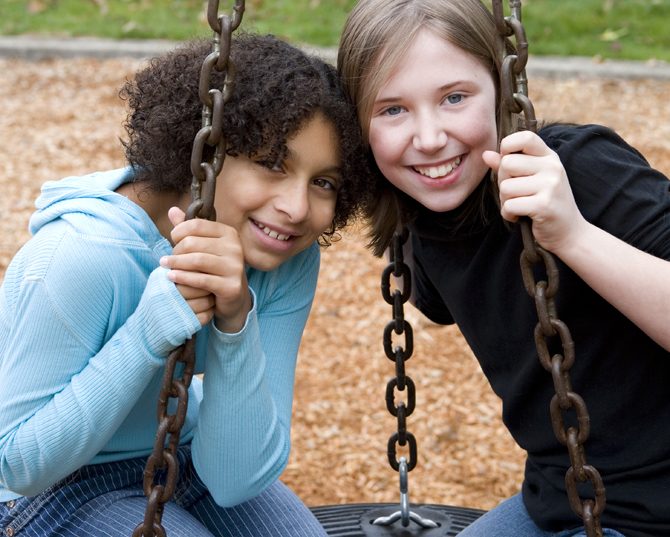 There's one thing a good Bible teacher absolutely must teach kids to do. Only one. And you might say it has to do with a swing.
Yes, I know that actually there are many things we should teach kids to do. There are spiritual disciplines to practice and acts of obedience to God that must be taken seriously. All of these matter. They're vital to the Christian life.
But there's also a sense in which there's only one thing to do. If the kids we teach get that one thing right, the rest will follow.
What is it? We must teach kids to believe in Jesus always. Faith is the one thing. Believe the gospel, and you do it all.
A friend recently pointed me to a quote from Thomas Boston, a leading Scottish pastor from the early 1700s. Boston called faith in Christ "the one comprehensive gospel-duty."
"When we bid you believe, we bid you get all privileges, and do all duties; for believing is the way to both, in so far as it unites the soul to Christ, which is the fundamental privilege of the saints. If ye believe, ye do all in effect, as he who takes hold of the first link of a chain has hold of all the links."

—Thomas Boston, An Illustration of the Doctrines of the Christian Religion (Edinburgh: John Reid, 1773) p. 156
I like the chain imagery in that quote. Since I teach kids, I quickly think of the chain as one a child's swing hangs by at a playground. Kids who sit in the swing may look like they're only using the seat. But because the seat is linked to the chain, it's much more than just a seat. Those kids are connected to the whole swing, every link, all the way up.
A kid who puts his faith in Jesus is connected to the entire Christian life—the whole chain. That kid has what it takes to swing, to soar.
As Boston explains, believing is what joins us to Jesus. And two things happen, he reminds us, when we're joined to Jesus by faith.
First, those joined to Jesus get all privileges. Every blessing of the gospel is theirs. They are declared not guilty of sin, adopted as children of the Father, given the Spirit, empowered to be godly, and assured of a glorious, eternal life with God. These links in the chain make a believer secure, confident, hopeful, thankful, and smitten with Jesus. They're the strands of a vigorous Christian life.
Second, those joined to Jesus do all duties. This is true first of all because belief is the fundamental Christian work: "This is the work of God, that you believe in him whom he has sent" (John 6:29). It's also true because those who believe are empowered by the Spirit and equipped with prayer to fight sin in their lives. They work trustingly to deny themselves, to live for Jesus, and to serve his kingdom. They study God's law. They love him and others. Because they know Jesus they long to be like him, from task to task, day after day, link by link.
All of this happens when a kid truly believes the gospel and is joined to Jesus. It's why I challenge kids to believe.
Mind you, that doesn't mean frequent, pressuring altar calls. I actually don't like those. Instead I continually try to show my students the beauty of Jesus. I teach them about all those blessings of being joined to him. I urge them to believe it all and to trust Jesus not just once, but every hour of every day. My strategy is to give them reason after reason to love him and run after him—to get them to grasp that chain hard and never let go.
When that happens, everything a Bible teacher dreams for his students comes true.
###
Thoughts? Please share or comment below. I love feedback and discussion—it's how we learn from each other! (Pick any name you like, and no one but me will see your email address—and I won't use it, I promise)

Copyright secured by Digiprove © 2015 Jack Klumpenhower