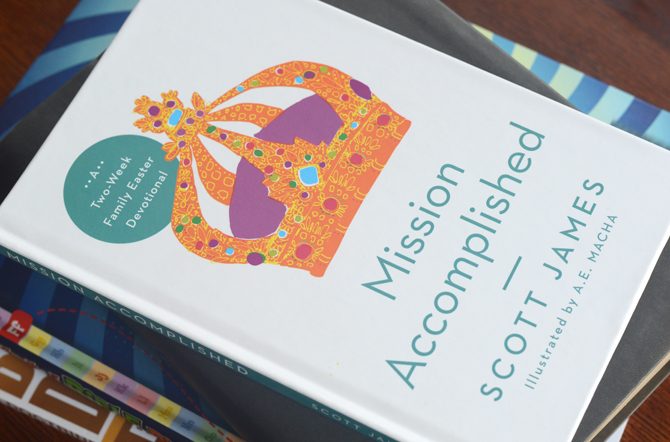 Easter Resources that Really Celebrate Jesus
There are some nice new family resources that you can still get in time for the Easter season. And they aren't about eggs and bunnies—they're about Jesus.
Of course, anytime is the right time to celebrate Jesus. But one of the great things about Easter is that it often gets us thinking, "What more could we be doing to worship and teach about Jesus in our home?" Sometimes the desire to do something special for Easter is just what it takes to get us started on a new habit that lasts long after the season is past. Sometimes it just means more worship, prayer, or Bible reading for a week—which is good too.
This year, a few new resources have caught my eye.
---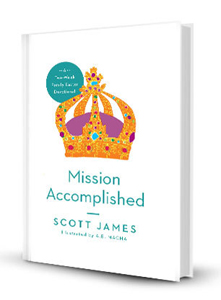 Mission Accomplished: A Two-Week Family Easter Devotional by Scott James
My favorite thing about this little book is that in 14 short family worship devotionals it manages to cover a lot of territory—all relentlessly Christ-centered. This isn't just, "New life, hooray! Let's hunt some eggs!" There's rich, biblical content embracing a variety of themes that connect to Jesus's death and resurrection.
You'll consider Jesus's kingship, his compassion, and his heart as a teacher. You'll learn about his two crowns and why he spoke of two cups. You'll discuss the roles of Scripture, faith, and forward-looking hope, all while never straying far from the atonement. There's all of this—plus prayers, songs, and a few fun projects—in friendly chunks that easily fit into a busy family schedule. The devotionals are designed to begin a week before Easter Sunday.
A good place to get this book is Westminster Bookstore, which has made it a featured resource. They have good prices and ship pretty quickly, too.
---
The Easter Story: The Bible Version by Carine MacKenzie
Any new offering from Carine MacKenzie is cause to take note, and this telling of the Easter story is no exception. The storybook is also true to its advertising: it's a solidly biblical account. It's just long enough to do a good job of covering the whole story from the gospels, yet short enough to read to younger children at bedtime. It's sophisticated enough to be true to what the Bible tells us, yet simple enough for kids to understand. That takes a master storyteller.
There's a welcome international perspective (one early illustration will make more sense if your child has visited the Tower of London) that I think adds to the book's charm. Mostly, though, I appreciate how it turns our gaze again and again to Jesus.
Get it from Christian Focus for Kids.
---
My biggest beef with both of those books is that in trying to coordinate their release with Easter, the publishers have left barely enough time for ministry directors to review the books, order them in bulk, and get them into the hands of parents with plenty of days to spare before Easter. That's a pity, but it's still possible if folks hurry, and you can easily get them in time for personal use this season.
Alternatively, a family might try straight Bible reading with a few discussion questions. A few years ago I wrote up a simple Easter-week reading plan with five readings from the book of Mark and questions geared toward both adults and kids of various ages. It isn't fancy, but you can download these Easter readings from Mark.
Here's hoping that Easter with your family is encouraging and draws you closer to our Savior!
###
Thoughts? Please share or comment below. I love feedback and discussion—it's how we learn from each other! (Pick any name you like, and no one but me will see your email address—and I won't use it, I promise)

Copyright secured by Digiprove © 2015 Jack Klumpenhower