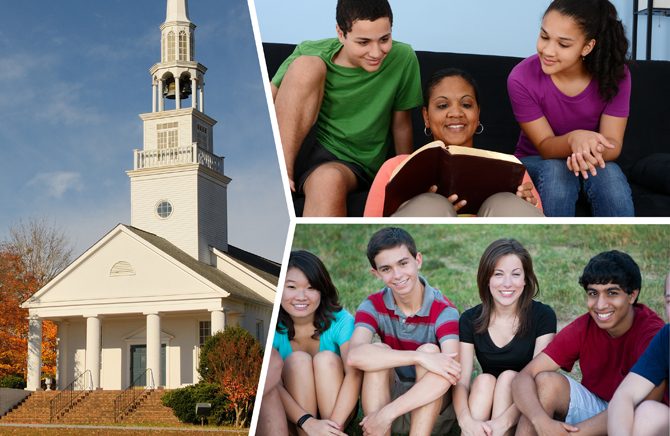 Connecting Home, Church, and Youth Group
It's usually easier to just do your own thing—teach your Bible lesson, run your youth program, lead your family devotions. But easier isn't better.
The Gospel Coalition has just published two brief "roundtable" videos on the topic of youth ministry. I like both videos so much that I have to share them. The panelists are youth ministers, but the points they make apply to younger kids in the church as well.
The first video is about how youth ministers and those who work with children in the church need to stay connected to parents. I especially like the point that when shallow, gospel-empty teaching leads kids away from church once they grow up, this is as much the fault of weak teaching in the home as weak teaching at church.
As a Sunday school teacher, I'm most motivated to keep teaching meaty theology and gospel-rich lessons when parents talk to me about what their kids are learning. Every time a parent tells me they appreciate how I teach about Jesus, or asks me about something I taught, I'm challenged to improve my game. And I like to think that I challenge those parents right back—that when I talk with them about what I've been teaching their kids they feel motivated to follow up or to improve their teaching at home.
This is how it ought to be. One of my jobs as a teacher is to encourage parents, and one of my jobs as a parent is to challenge my own kids' teachers. This is one of the valuable points I draw from the first video.
https://www.facebook.com/video.php?v=10152486751602723&set=vb.31365402722&type=2&theater
The second video is about integrating youth ministry with the larger life of the church so that kids grow up with a rich sense of the church and their part in it. Why is this a "gospel" issue? Because, as the Heidelberg Catechism tells us, "I am not my own, but belong, body and soul, in life and in death, to my faithful Savior Jesus Christ." We belong to another—to Jesus—and this means we connect with his church rather than try to fashion our own private faith.
This is a vital lesson for kids to learn and experience, and a church's approach to its youth group and children's ministry can make the difference between a kid who becomes a "Lone Ranger Christian" and one who grows strong in a great church.
https://www.facebook.com/video.php?v=10152486754242723&set=vb.31365402722&type=2&theater
###
Thoughts? Please share or comment below. I love feedback and discussion—it's how we learn from each other! (Pick any name you like, and no one but me will see your email address—and I won't use it, I promise)

Copyright secured by Digiprove © 2015 Jack Klumpenhower