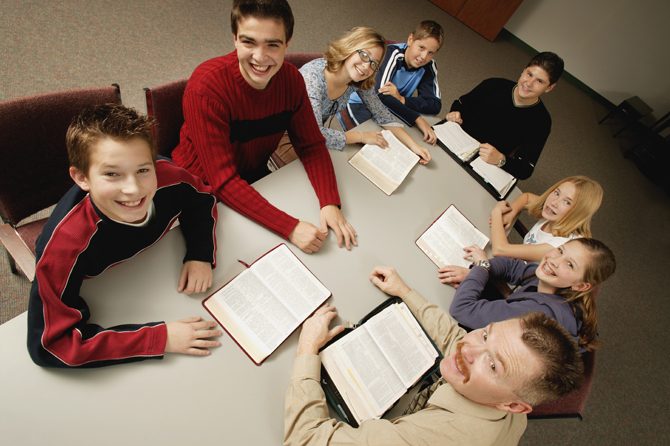 Why Bible Teachers Aren't Teachers
If you "teach" about Jesus you need to be different. Here are four things to be instead of a teacher.
Yes, I know. You are a teacher. Whatever your work with kids—as a parent, a lesson presenter, or any kind of ministry worker—kids are watching you and learning from you. In that sense, you and I most certainly are teachers.
I even call this website "Gospel Teacher." See, I like teachers. I'm a teacher.
But in another sense, you and I can't allow ourselves to think that way when teaching about Jesus from the Bible. The Bible is so superior to other truths, and Jesus so superior to other topics, that our kind teaching is, well, peculiar. There are ways that the master/pupil mindset we're used to when we think of teaching shouldn't quite apply. I can think of four of them:
1. We're not teachers; we're worshipers. If we ever teach about Jesus without first being wonderstruck by him, we've utterly failed to understand our topic. When we share about Jesus, we do it from the overflow of our hearts, not just the knowledge in our heads. This makes our teaching personal, warm and contagious. We spread reverence, not mere education.
2. We're not teachers; we're senior learners. We realize that in this lifetime we'll understand only a fraction of the full riches of the gospel and glimpse just a corner of the abounding beauty of Jesus. So we approach teaching not as experts who've mastered their field, but as discoverers who're inviting new voyagers along on a journey. We show them what we've already seen, but we also uncover fresh wonders together. And we undertake all this in God's power, prayerfully, not by our own know-how.
3. We're not teachers; we're interpreters. An interpreter's job is never to come up with original content, but rather to convey what the true speaker is saying without messing it up. We pass along the Bible's message with care and clarity. We appeal to its authority, not our own. We don't tell students to listen to our wisdom, but instead urge them to heed God's wisdom. We say, "Reject me if you like, but don't ever reject Jesus."
4. We're not teachers; we're extras in the scene. Our role is to make sure none of our students pay much attention to us, but instead have their eyes focused on the star of the show, Jesus. We constantly point away from ourselves and to him and his power. We're like John the Baptist, who was the first true prophet in 400 years and the most popular teacher of his time, yet lived by the principle, "He must increase, but I must decrease" (John 3:30).
All of these are principles I often forget once I'm actually in front of a class or discussing the Bible around the dinner table. I suppose that might make me discouraged—except for this: A common thread in all four points is that as you and I work with our students, we never lose sight of our own Teacher. He is our confidence. May the God who knows and trains the hearts of his children work through our blunders and spread everywhere "the fragrance of the knowledge of Christ" (2 Cor. 2:14), even as we learn to be better non-teachers.
###
Thoughts? Please share or comment below. I love feedback and discussion—it's how we learn from each other! (Pick any name you like, and no one but me will see your email address—and I won't use it, I promise)

Copyright secured by Digiprove © 2014 Jack Klumpenhower