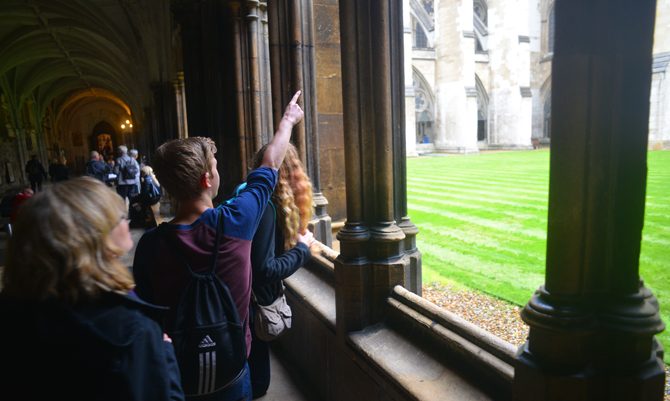 A Story Our Kids Need to Hear
One of the most specific instructions the Bible gives parents about teaching their children is also one of the most neglected.
I and my family are spending some time in London. One place we've visited here is Westminster Abbey—a good place for a walk through history. The old cathedral is filled with markers that point to burial sites of notable people in England's history or monuments to their lives.
Much about the abbey is not particularly Christian, but it is a church and it has its moments. We enjoyed discovering markers to notable gospel believers: writer C. S. Lewis, scientist Isaac Newton, hymn writer Isaac Watts, revivalist John Wesley, teenaged king Edward VI, abolitionist William Wilberforce, and composer G. F. Handel (above whose burial site we found the words from Job 19 he used in his Messiah—"I know that my Redeemer liveth").
We also stood in the room where, nearly 400 years ago, a group of gospel scholars dubbed the Westminster Assembly began work on a set of documents that became foundational for much of the protestant world, particularly the Presbyterian and Baptist traditions. The confession and catechisms produced at the abbey still serve as important guides to the Bible's teaching. They make the abbey part of my family's history, spiritually.
We toured the abbey in part because we happen to enjoy history. But our visit also makes me think of Psalm 48, where parents are given a specific way to instruct their children.
Walk about Zion, go around her, number her towers,
consider well her ramparts, go through her citadels,
that you may tell the next generation that this is God,
our God forever and ever. He will guide us forever (Psalm 48:12–14).
The psalm told Bible-times moms and dads to take their kids around the temple area in Jerusalem. They were to use the strong towers still standing around that place of worship as an encouraging sign of God's faithfulness. This is what I was after at the abbey. I wanted us to see how God has used his people to grow his church and bless the world through the centuries, which boosts our confidence that Christ will win in the end.
Psalm 48 is one of just a handful of Bible passages that give parents a specific way to teach their children. It fits a theme that's common in such passages: we are to show our kids evidence of God's care and guidance through the years, telling stories of his past goodness.
Your family doesn't need to be history geeks like mine to make this work. You don't necessarily need to know about famous people and assemblies, or travel to another country (though you could!). Here are some other ideas.
Learn a few stories about the church you attend. How did it begin? What are some struggles God helped your church overcome? Who has he helped through your church? Invite a longtime church member to share those stories with your family. Perhaps a literal walk around the building where your church meets would even help tell those stories, as in Psalm 48.
Tell your children some family history. Have they heard how you became a Christian? That's a story they very much need to hear. Do they know about ways God helped you when you were young? What about the stories of grandparents, or other ancestors? Share these stories or have other family members do so.
Learn biblical history. The stories of believers in the Bible are your family's stories too, because we're all part of God's family. Read the great family stories in Scripture, and be encouraged by how God works.
One point of thinking in terms of stories is that they help us see how Jesus is alive, at work in the past and still today. They give us confidence in Christ. When we fail to share those stories, they become forgotten and our faith suffers.
At Westminster Abbey, my family decided to take the official ninety-minute tour. I found it telling that despite the tour being led by a member of the abbey's ministerial staff, there was no acknowledgment at any point of God's faithfulness. In fact, I'm not sure God was mentioned at all. Rather, the tour consisted of moments like one where we were hurried right past the marker to Wilberforce, who in his day was one of the most respected men in England for his godliness and his efforts to end the slave trade, in order to gather at the burial site of Charles Darwin, who is known for having rejected the church. I understand that Darwin is an influential and interesting figure, but the priorities seem wrong. Something important has been forgotten; God is on the back shelf.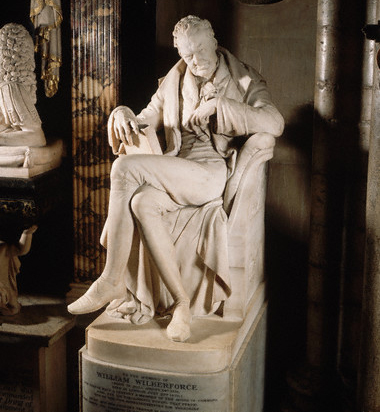 We ended up finding the monument to Wilberforce on our own. In his lifetime, he was often subject to sneering from his fellow leaders in government who thought a robust Christian life was unsophisticated. But his devotion to God and the lifestyle that accompanied it slowly won over most critics. As we stood in the abbey, we read the inscription carved into stone after his death nearly two centuries ago. This is what it says:
To the memory of William Wilberforce…. To high and various talents, to warm benevolence, and to universal candour, he added the abiding eloquence of a Christian life. His name will ever be specially identified with those exertions which, by the blessing of God, removed from England the guilt of the African slave trade, and prepared the way for the abolition of slavery in every colony of the empire. In the prosecution of these objects he relied, not in vain, on God; but in the progress he was called to endure great opposition…. Yet he died not unnoticed or forgotten by his country: the peers and commons of England, with the Lord Chancellor and the Speaker at their head, in solemn procession from their respective houses, carried him to his fitting place among the mighty dead around, here to repose: till, through the merits of Jesus Christ, his only Redeemer and Saviour (whom in his life and in his writings he had desired to glorify) he shall rise in the resurrection of the just.

—William Wilberforce memorial in Westminster Abbey
That was good to read. It says exactly what should be said. It encourages us to stay faithful in adversity and remain godly despite temptation. It points us to Christ; it reminds us of what we might do when we are devoted to him and trust him, and it assures us he will love us to the end. It tells us Jesus is our strong tower.
Our Savior's name is Faithful and True (Revelation 19:11). I know stories that prove it, and you do as well. Let's tell them to our children.
###
Thoughts? Please share or comment below. I love feedback and discussion—it's how we learn from each other! (Pick any name you like. Your email address will not be displayed.)

Copyright secured by Digiprove © 2015 Jack Klumpenhower