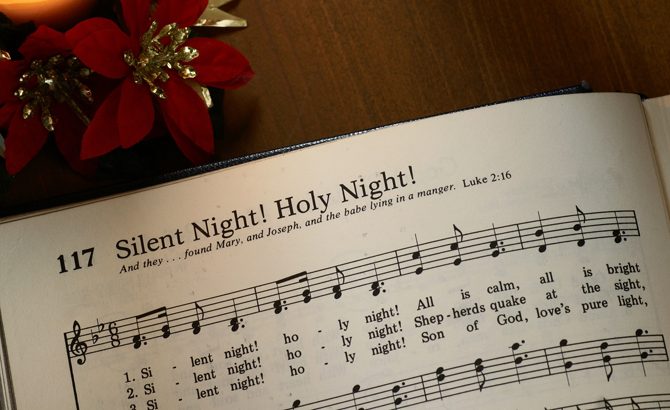 Three Places You Need to Sing This Week
We all need to sing, especially at Christmas. The Bible actually says so.
Christmas is about singing. It brings caroling, holiday concerts, and rockin' around the Christmas tree. Even secular radio stations and shopping malls play special music this time of year, and churches tend to offer much of it. Last Sunday, the kids at my church sang a song about Christ's birth for the congregation. Yes, Christmas is about singing.
But I mean something more than all that. I mean that in the Bible, Christmas is about singing. Luke's narrative of the birth of Jesus is, in large part, a progression through four songs. Four times, the characters in the story stop to respond to what they've seen or heard with verses of praise. Traditionally, these are known as Mary's Magnificat, Zechariah's Benedictus, the angels' Gloria, and Simeon's Nunc Dimittis—the four songs of Luke.
Although it's always good to praise God, the Bible shows us that there's something especially appropriate about singing in response to the sweet news that the Savior has come. I've been thinking about how gospel teachers might practice this in the coming week. If you're like me, there may already be a bit of extra music in your world this time of year. But it's also good for us to be deliberate about singing in three areas of life.
1.  At home. My family sings regularly as a part of family devotions, but Christmas is a great reason to add extra singing. And for families that don't normally sing praise to God together, it's the perfect opportunity to start. Chances are, we already know the tunes and some of the words to several great Christmas carols. So let's sing them at home.
2.  In Sunday school. Those of us who teach kids at church or in other Christian classroom settings have a natural way to apply our lessons this time of year. We can sing in response to the gospel. At my church I teach third and fourth graders, and the elementary kids gather before lesson time for singing. This Sunday, I think I'll also lead my class in singing after the lesson, as an application. The kids know and love carols, and it's a fitting reaction to Luke's nativity account.
3.  By ourselves. Personal worship is an often-neglected aspect of a gospel teacher's worship life, but it shouldn't be. We teach out of the fullness of our own life with God, so the time we spend in personal Bible reading, prayer, and other worship is important. Singing can be an enjoyable part of that (there's no awkwardness about how well we sing when we sing alone!), and Christmas carols make great, easy praise.
Christians are a singing people because of our Savior, who gives us so very much to sing about. A Bible passage I often have my students memorize is Psalm 96:1-2. "Sing to the Lord a new song; sing to the Lord, all the earth! Sing to the Lord, bless his name; tell of his salvation from day to day." The singing that's a joy for us day to day is doubly appropriate right now. It's Christmastime—the season of song!
###
Thoughts? Please share or comment below. I love feedback and discussion—it's how we learn from each other! (Pick any name you like, and no one but me will see your email address—and I won't use it, I promise)

Copyright secured by Digiprove © 2014 Jack Klumpenhower