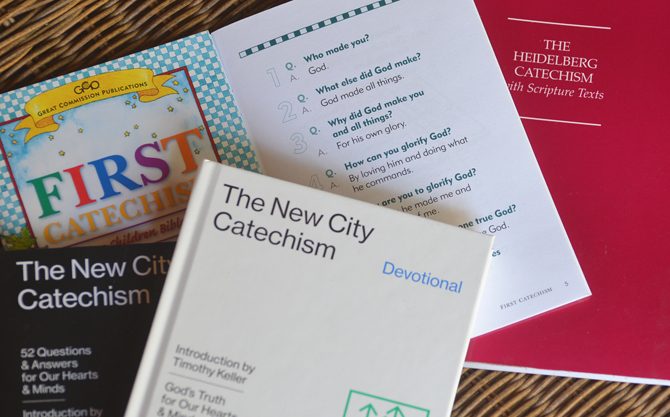 A New, Old Way to Teach About Jesus
Parents and churches are returning to an ages-old method of teaching gospel truths so that they stick. It's a promising trend.
Years ago, before Rev. Tim Keller became a best-selling author and the co-founder of The Gospel Coalition, I listened to a talk he gave. It was about how preachers should always proclaim the good news of Jesus from every part of the Bible. At the end, in response to a question, he mentioned that those who teach children in the church should make sure they too teach about Jesus. He suggested the failure to stay Christ-focused was an even more common problem in Sunday school than in the pulpit.
I took note, because I too had been thinking this was a problem. I had toyed with the idea of writing a book that would encourage teachers to stay Christ-centered, but I wondered if anyone else would agree such a book was needed. Well, here was a pastor saying yes, there's a need. This was one of several confirmations that eventually led me to write Show Them Jesus.
Since then, in all his books and sermons I've happened to read or hear, I can't recall Keller saying another word about teaching children. Until now.
That's not a complaint. Rather, I mention it as an example of why I think something noteworthy may be happening.
A new emphasis
The recent comments from Keller come with the publication of The New City Catechism. Catechisms teach Bible truths in a bite-sized, question-and-answer format. This particular catechism has been around since 2012, when The Gospel Coalition created app and online versions and pitched it as a handy way to learn basic theology. Now it's out in booklet form and as a devotional book with notes. This time the publisher, Crossway, is emphasizing its use in teaching children.
The booklet's introduction gives tips to help parents teach their kids the catechism. My favorite bookseller, Westminster Bookstore, advertised it as a family devotional. The Tim Keller comment I saw showed up on my Facebook feed in the form of a video explaining the importance of catechism for children. There's even new sing-along music to help kids learn the catechism through song, and a children's Sunday school curriculum is in the works.
Parenting resources have sold well for years, but this is different. There's a growing awareness that we've failed to give kids enough Bible knowledge and basic theology. Parents and churches are looking for more depth, and want to get methodical about it. Some see that catechisms are a good tool for doing this, either by memorizing the questions and answers or by using them as a teaching framework. I agree, and I hope catechism use catches on.
An old method
Churches in Reformation times created catechisms with the idea that ordinary believers should know what the Bible teaches. They became a way not just to teach adults, but to instruct kids so they'd grow up in the faith. This also made catechisms a means of preserving the faith from error, so that a few of the best even became official faith statements.
Catechisms remained popular for centuries, but today they've fallen out of fashion. Our Christian culture now tends to prize how you feel about Jesus more than what you know. It celebrates personal testimonies ahead of the church's shared faith. It pushes for mountaintop experiences instead of relying on ordinary, daily gospel teaching.
Catechisms fit an older approach we've nearly forgotten. They rely on patient, biblical instruction that gets embedded over time. They reflect a commitment to "let the word of Christ dwell in you richly, teaching and admonishing one another in all wisdom" (Colossians 3:16).
Notice how that verse emphasizes learning God's word in a community. This is one advantage of the catechism method. We not only learn what the Bible teaches; we learn it together, using agreed-upon summaries carefully worded to reach our minds and hearts. We also learn in a format that lets us quiz each other, helping us remember what we've learned. In this way, we pass Bible truth down through the generations.
There've been hundreds of catechisms. One strength of The New City Catechism is that it borrows heavily from a few of the best, older catechisms. It's also short, and has an even more abbreviated option that lets young children learn the same answers as their parents, but in fewer words. It's written to be suitable for both those who baptize infants and those who don't.
Several other catechisms are also good choices.
I've used the Heidelberg Catechism with my own family. It has a warm touch and includes a ton of rich insights that just couldn't fit into the briefer New City Catechism.
The Westminster Shorter Catechism is a Presbyterian standard. It's amazingly thorough for its length, containing some of the most compact theology ever written. Baptists have built on it for their own catechisms, including this fairly recent update from John Piper.
The Children's Catechism, also called First Catechism, is for the youngest kids. I'm constantly amazed by the wisdom in its simple answers. On baptism, it takes a Presbyterian stance.
Each of these, along with several others, is a good choice because it explains truths about God, points us to Jesus as our only hope, and trains us to live for him. All of us, kids and adults, need that.
My own kids are nearly grown now, and one of my regrets is that we didn't do more memorization and question-and-answer drills when they were younger. It was fun for them then, and we also had more time. It would have been helpful to us all.
###
Thoughts? Please share or comment below. I love feedback and discussion—it's how we learn from each other! (Pick any name you like. Your email address will not be displayed.)

Copyright secured by Digiprove © 2017 Jack Klumpenhower