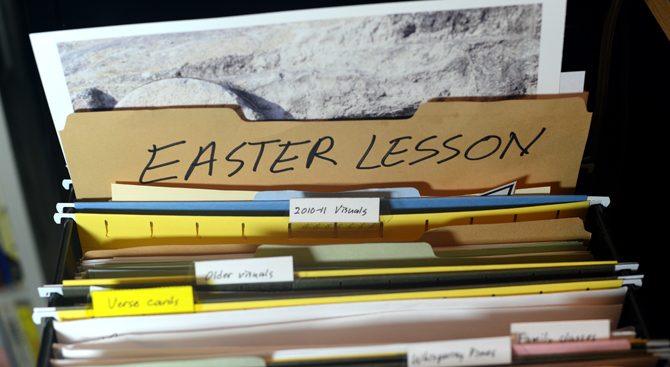 Why Bother (Yet Again) with the Easter Story?
Chances are you've heard about the resurrection before—several times. Why rehash it all again this year?
You and I will go to church Easter morning for songs and a sermon based on the resurrection accounts. In my case, I'll follow that up by heading to the Sunday school area where I'll teach that same story to a bunch of kids—who've also heard it many times before. My Easter lesson is a good one, pulled out of the file each spring because I like it. Yet I find that Easter can make for one of the most difficult classes of the year. It's hard to keep kids' attention. The story is familiar, and they have egg hunts or chocolate bunnies on their minds as they tug on uncomfortable clothing.
Yet I will teach about the resurrection. In fact, I consider it so central to Bible teaching that I bring it up often at all times of the year—not just at Easter. We and the kids we teach need to hear and reflect on the death and resurrection of Jesus regularly.
Why is that? What should we expect to happen as we ponder those saving works of our Lord? Here are three ways that hearing the heart of the gospel helps believers to live for Jesus.
1. GRATITUDE: We teach about the death and resurrection of Jesus to build love for God. Jesus called love for God the first and greatest commandment, but we will never have such love unless we deeply know both his love for us and how worthy of love he is. We see this love most vividly in Jesus, and the events surrounding his death and resurrection are the pinnacle. "This is love, not that we have loved God but that he loved us and sent his Son to be the propitiation for our sins" (1 John 4:10). Thankful love for God grows as we soak in this.
2. CONFIDENCE: We teach about the death and resurrection of Jesus to build power over sin. Salvation in Jesus makes us spiritually alive, able to break free of selfish pursuits and live as children of God. "We know that Christ being raised from the dead will never die again; death no longer has dominion over him. For the death he died to sin, once for all, but the life he lives he lives to God. So you also must consider yourselves dead to sin and alive to God in Christ Jesus" (Romans 6:9–11). Notice that it isn't enough just to be alive in Christ; we also need to consider the fact. We need constant reminders of who we are in Jesus and what power we have through him to live accordingly. This makes us confident to pray. It helps us battle sin even when we repeatedly fail. It keeps us in the fight.
3. HOPE: We teach about the death and resurrection of Jesus to build expectations. We will never resist living for the trifles of this world unless we know there is something unseen and better to live for. Peter says because we know that Jesus rose from the dead, we live in expectation of "an inheritance that is imperishable, undefiled, and unfading, kept in heaven for you…. In this you greatly rejoice, though now for a little while, if necessary, you have been grieved by various trials" (1 Peter 1:4, 6). We keep living for God even when it's hard because the glory awaiting faithful believers is worth it. The resurrection of Jesus whets our appetite for our own coming victory—and assures us it will happen. We must keep this always in sight.
Do you and I want to live for Jesus? Do we want the kids we teach to live for him too? Then we and they must constantly see how he has lived and died and risen for us. The resurrection accounts are an amazing story that never gets old—especially as we realize how we are in that story too.
###
Thoughts? Please share or comment below. I love feedback and discussion—it's how we learn from each other!

Copyright secured by Digiprove © 2014 Jack Klumpenhower